Tel: 913-906-0400 • Fax: 913-906-9815 • USA
Oil Purifier Model: MB-25 for oil reservoir size up to 250 gallons(946.25 liters) .
MB-25 Specifications *
| | |
| --- | --- |
| Dimension. | 18" dia. filter size, 20"W x 20"L x 24"H 120 |
| Weight: | pounds (55 kgs) |
| Flow Rate: | 15 to 25 GPH depending on oil viscosity |
| Pump Data: | 2 GPM Positive displacement, 1/3 HP motor |
| Power Source: | 110V-1ph or 220V-1ph |
| Controller: | Programmable digital controller with EEPROM retained memory and battery backup |
| Electric Enclosure: | NEMA 12 metallic enclosure, water tight, dust proof, terminal blocks, contactors, all components are UL and CE approval, meet NEC (National Electric Code) standard |
| Automatic Control: | Auto stop by differential pressure switch shut down, timer switch, optional oil level switch to detect low oil level |
| Heater: | 900 Watts, Incoloy immersion heater with built-in thermostat control |
| Alarm Light: | "REPLACE FILTER" alarm pilot light |
| Oil Strainer: | Inlet oil strainer for pump protection |
| Safety Device: | Built-in pressure relief valve |
| Discreet Output: | Ready discreet output wired from terminal block to PLC |
| Discreet Input: | Ready discreet output wired from terminal block to PLC |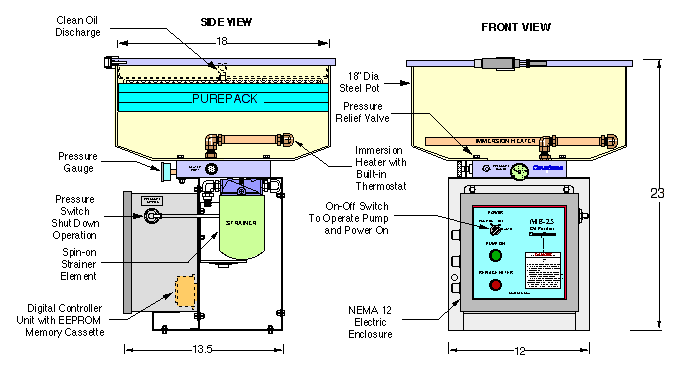 * Specifications are subject to change without notice.
MB-25 is suitable for any industrial equipment that has an oil reservoir up to 250 gallons (950 liters) capacity. It is designed to be installed as a dedicated oil dialysis unit while equipment is running. This dedicated oil dialysis cleaning method will maintain the highest oil cleanliness on a continuous basis so lubricating oil can be at its best lubricating performance under severe conditions.

Applications
Equipment application: The MB-25 can be used in plastic injection molder, extruder, blow molder, all types of hydraulic power units for off-road vehicles, mining equipment, earth moving equipment, hydraulic bulldozer, hydraulic power unit for trash trucks, freight loading cranes, marine hydraulic power units, banbury machine, diesel power generator, rotary air compressor, small gear boxes, lube oil bearings, vacuum pump etc.
Oil application: Hydraulic oil, gear oil, compressor, transmission oil, Phosphate Ester, fire resistant hydraulic oil, synthetic oils, insulating oil etc.